Best Dating Apps In Mumbai – Sign Up Guide 2023!
Searching for the best dating apps in Mumbai? Looking for meaningful connections in a fast-paced life? Browse our article to learn about the top matchmaking apps in the city that never sleeps.
Dating apps are online platforms for finding life-long relationships, genuine friendships, and professional connections, regardless of age, gender, or location. Besides, if you reside or work in busy metropolitan cities like Mumbai, you may be hard-pressed for time to look out for a date on your own.
With mobile dating apps, you can skim through thousands of profiles even while you are stuck in heavy traffic, commuting on a local train, or enjoying your lunch break. Moreover, these apps publish useful blogs, relationship advice, dating guides, and safety tips to help you identify your perfect soulmate without falling prey to honey traps.
Continue reading for deeper insights into popular dating apps in the financial capital.
Best dating apps in Mumbai – An overview
Scouting for eligible singles in a sprawling metro like Mumbai is a Herculean task. However, the top dating platforms enable you to find ever-lasting connections in the city and your vicinity. Based on your preferences, their smart algorithms match you with like-minded singles and offer personalized recommendations. Besides, progressive features like video chats help you understand more about someone before meeting them in person.
Moreover, these apps elevate your dating experiences by setting up offline meets in some of the iconic locations of Mumbai. Thus, you can explore the cultural grandeur of the city while getting to know your prospective matches better.
Furthermore, many dating platforms organize physical events exclusively for Mumbai singles, increasing your chances of spotting a potential mate in the heart of Bollywood.
What are the top dating apps in Mumbai?
Based on essential parameters like premium features, pricing, personalized services, user-friendliness, etc., we have compiled a list of the best dating apps in the dazzling city of Mumbai as of February 17, 2023. Please note we have referred to Google Store data on the number of app installs, ratings, and reviews. Read ahead for more details on each app.
1) Aisle
Aisle is a top dating app with a thriving community of spirited Indians and South Asians worldwide, connecting online to build long-lasting offline relationships. Besides, it is not a casual dating platform and provides curated matches based on your search criteria. Moreover, you can like and send invites/roses to member profiles that interest you.
Fostering honesty, transparency, commitment, and creativity, Aisle is a relationship-focused app that singles cannot afford to miss.
2) Badoo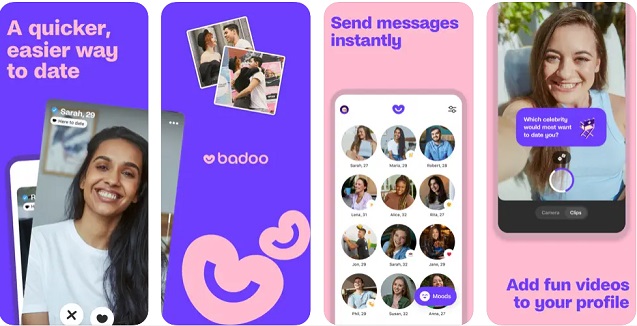 Badoo is an excellent dating app to eliminate self-doubts and be the true, unapologetic you. It places honesty at the core of modern dating and encourages users to be themselves to find real love. Whether you are seeking a potential partner in your locality or a true friend from around the world, Badoo is a social networking platform to find similar individuals nearby and across borders.
Moreover, Badoo has strict usage guidelines, robust security features, and zero tolerance for inappropriate behavior, making it one of the safest dating platforms in Mumbai.
3) Bumble
Bumble is a world-renowned app nurturing relationships built on mutual respect and equality. Standing tall on the principles of honesty, compassion, growth, responsibility, and inclusivity, Bumble is an innovative app that has flipped gender norms and dating dynamics. Females make the first move on this app, challenging obsolete heterosexual practices and laying the foundation for healthy bonds.
Besides, you can also build friendships, teams, or communities using Bumble. So, if you are new to Mumbai & want to grow your social circle, create a community of performing artists, or make a hockey team, find like-minded people in the city through Bumble BFF.
Moreover, the platform helps expand your business network. Thus, land your dream job or kickstart your entrepreneurial dream in the "City of Dreams" using professional connections found via Bumble Bizz.
4) Happn
Happn is one of the best dating apps in Mumbai to connect with individuals you regularly cross paths with. Simply put, the platform makes it easier to find and bond with a special someone destiny has chosen for you. Besides, it removes location, language, and cultural barriers enabling you to seamlessly associate with people in your city, state, country, or from around the globe.
5) Hinge
Hinge is a fantastic app developed using a Nobel-prize-winning algorithm to help you discover promising connections. It has a dedicated team of researchers, matchmakers, and behavioral analysts who study successful relationship stories, photo themes, and user personas to provide better matches.
The Hinge Lab's team also offers personalized relationship advice, protects you from dating burnouts, and helps build the right chemistry with an individual before asking for an in-person date. Besides, these love scientists use sophisticated data science and BI analytics tools to compute compatibility percentages.
Guided by empathy, authenticity, audacity, sensitivity, and trust, Hinge is designed to be deleted and takes the necessary risk to set great dates for you.
6) OkCupid
OkCupid is a revolutionary dating app with a unique algorithm that matches you on what matters to you based on your responses to various prompts. It is the only app with numerous matching questions on everything from environmental sustainability, metaverse, and NFTs to coriander leaves.
Besides, the platform provides 13+ orientation and 22+ gender options for transgender, non-binary, and LGBTQ+ folks. Thus, if you are a Mumbaikar with a different sexual preference, OkCupid may be the perfect destination for you.
7) QuackQuack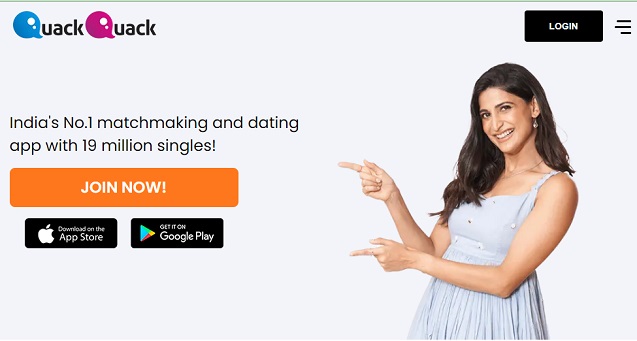 QuackQuack is a 100% free app with recommended matches not just from Mumbai but from all over India. A unique feature of the app is that you need not come out of your comfort shell to connect with eligible singles or get into committed relationships.
Moreover, it is the no.1 site for spotting local singles for serious dating, casual relationships, and friendships. So, if you want to date someone from South Mumbai only, QuackQuack is ideal for you.
8) TanTan

TanTan is an Asian dating app for building new friendships and discovering romantic partnerships based on shared interests. Though it is touted as the best app for finding Asian singles globally, it helps you connect with thousands of eligible singles living in Mumbai.
9) Tinder
Tinder is a globally-reputed online dating app with cutting-edge features for incredible dating experiences. Whether seeking life-long associations or open relationships, Tinder is the best place to connect with new people. Besides, the platform allows you to be yourself and supports all orientations – straight, bisexual, homosexual, or anything in between.
Also, Read: Best Apps Like ThopTV – 5 Alternatives To ThopTV In 2023!
Moreover, the app's "Super Like" feature multiplies your chances of matching by 3x and lengthens conversations by 70%. You can also increase your profile views by 10x with the "Boost" functionality.
Plus, Tinder provides ideas to set up in-person dates at top spots in Mumbai, like Marine Drive, Kanheri Caves, Essel World, Gateway of India, and Vipassana Pagoda.
10) Woo
Woo is another app like Bumble wherein women take the initiative to build exciting connections. Based on your location and hobbies, Woo will suggest like-minded profiles to kickstart a special bond. You can swipe left and right to "like" or "dislike" and reject a profile without revealing your identity.
Besides, the app has impressive women-only features like Woo Phone and Secret to help females place video calls directly while keeping their contact details confidential. Moreover, the dating platform regularly organizes a special event – Woo Nights– attended by 500+ singles.
Popular dating apps in Mumbai – Summing up!
Mumbai has been one of the early adopters of the online dating culture, with many youngsters in the city finding love through dating apps. Thus, if you are an eligible single from Mumbai, download any of the above free-to-use apps to begin your dating journey. Depending on your requirements and budget, you may also upgrade to their weekly/monthly/yearly paid plans.
FAQs
1) Are dating apps in Mumbai safe?
While most dating apps have robust profile verification policies to ensure secure dating environments, not all users are likely to be 100% honest. Thus, exercise caution and interact a few times over the phone or through video calls to spot any red flags before deciding to meet a person offline.
2) Which dating apps support Hindi?
Among the apps mentioned above, Tinder, Bumble, Badoo, Woo, QuackQuack, Aisle, and Happn support Hindi.
3) Is Tinder the most-favored app in Mumbai?
Tinder is the most popular app among males, while Bumble and Woo enjoy equal popularity among females. The city's LGBTQ+ community is active on Bumble, OkCupid, and Grindr.
4) Are paid subscriptions worth it?
While paid subscriptions provide access to advanced features and boost your chances of finding the right partner, they do not guarantee dating/relationship success.
5) Which other dating apps in Mumbai are worth considering?
TrulyMadly, Fluttr, and IndianCupid are some of the other dating apps in Mumbai that you can consider.