Best Dating App In Bangalore For Android & iOS (2023)
Are you looking for the best dating app in Bangalore in 2023? Dating apps are now an ideal way to find someone to date and remove the fear of rejection among many. Over the past few years, the number of users on dating sites has increased significantly. Therefore, more and more dating apps are coming up to offer unique features and search options.
In today's article, we will list the ten best apps for dating in Bangalore. Furthermore, we will provide clear information about them, plus present a list of the features and ratings.
Best Dating Apps In Bangalore (India) In 2023
Today over 300 million people are using dating apps worldwide and are signing up to find their ideal match. Although dating apps present several potential partners, finding the right one can be a hassle. Therefore, we have explored all the dating platforms and listed the best apps in terms of their filters, match-making ability, reviews, and more. Below, you can find details about them and understand why we think these ten apps are the best.
1) Tinder: Find a perfect dating match or friend!

Install: 10Cr+ Downloads
Rating: Play Store-2.9 Star/ App Store 3.8 Star
Tinder is one of the most popular dating apps in Bangalore that enabled over 70 billion matches to date. From finding true love to only looking for friends or open relationships, Tinder lets you interact with people anywhere in the world. The platform caters to all kinds of users, such as straight, gay, or bisexual, and allows them to share their interests with potential matches.
Nowadays, Tinder also presents an option for users to verify their identity and place a video chat feature to help them interact with new people from anywhere. Moreover, the interface is simple, with Swipe Right or Swipe Left features to discover potential matches.
Top Features
The double opt-in feature that allows mutual match-making
The tinder premium plan offers a monthly boost to help put your profile on top for 30 minutes
The subscription also lets you rewind the last Like plus Nope
5 Super Likes/week for sometimes you really like
2) Hinge: A dating app that is created to be deleted!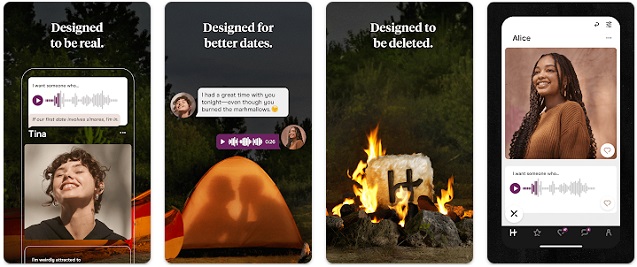 Install: 1Cr+ Downloads
Rating: Play Store-3.5 Star/ App Store 4.5 Star
Hinge is becoming a popular dating app, with users increasing in countries such as Bangalore (India), US, UK, Canada, and Australia. The platform aims to let people find their perfect match and help them delete their dating apps. According to Hinge statistics, 3 out of 4 times users on Hinge like to go on a second date.
Also, Read: Best Dating Apps In Mumbai (India) – Sign Up Guide 2023!
The successful matches by Hinge are mainly because of the interface that allows everyone to share their personal information, such as religion, height, or political views, and helps locate potential dates from their unique answers. Starting a conversation with another user is simple, and the platform also asks how the dates with matches are going.
Top Features
Your personal information allows Hinge to quickly understand your type
Free to use and also has a membership model for adjusting advanced preferences
Include a swipe left or right interface and is available in English, German, and Swedish 
Focused as well as curated users presented to you every day
3) Happn: Find people destined to meet you!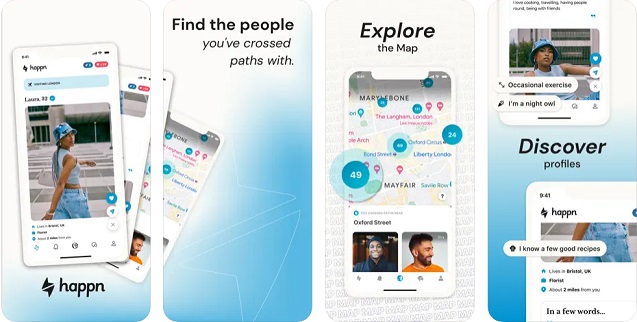 Install: 5Cr+ Downloads
Rating: Play Store-3.5 Star/ App Store 4.3 Star
Happn is a free-to-download dating app with more than 100 million members worldwide. The interface works on the swipe right and left feature, enabling you to send a like to a profile that fits your interests. Moreover, the platform will only allow the other person to know you once they like you back.
Happn also offers a FlashNote option that enables users to send a message to someone they like and help them stand out. After matching with another user, you can start a chat or even talk on a video call.
Top Features
Never get a text from someone you do not find interesting
Your location will never be visible to other users
The Premium version enables 10 FlashNotes/ day, unlimited Likes, and an ad-free experience
Available in over ten languages
4) Aisle: Head on meaningful offline dates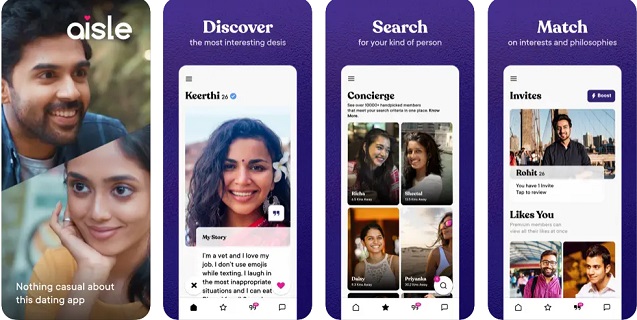 Install: 50 Lakhs Downloads
Rating: 4.4 Star rating on Play Store & App Store
Made for Indians, Aisle is a popular platform that helps people of Indian origin connect with users around the globe. Moreover, Aisle is a relationship-focused dating platform considered an ideal blend of matrimonial websites and dating apps. Also, the app was India's second most installed dating app in 2020 and is slowly becoming a vast community of vibrant South Asians. Furthermore, this free-to-download app has a smooth interface and even offers a VIP membership for accessing extra features.
Top Features
Find the perfect match based on your preferences, such as mother tongue or faith
Host a virtual room to start an audio conversation
The premium service includes unlimited likes plus unlimited invites
Send invites to the profile you like the most
5) Bumble: Date, find friends or build your career!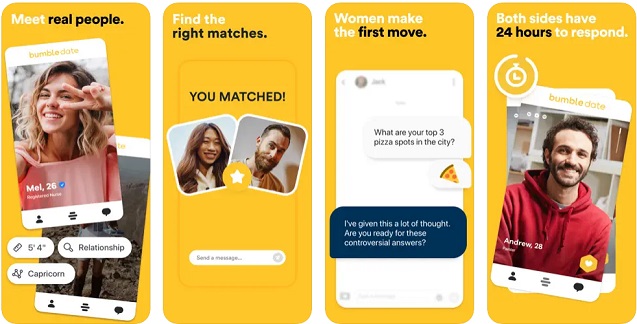 Install: 1 CR+ Downloads
Rating: Play Store-4.0 Star/ App Store 4.2 Star
Bumble is a great app that helps combine dating, friend-finding, plus career-building options in a single platform. After a potential heterosexual match, the app lets women make the first move within 24 hours. Moreover, the app offers an easy-to-use interface with swiping options in 3 different modes such as:
Bumble Date:

 the women have to make the first move after a match in this mode

Bumble BFF:

 Someone traveling to a new city or just wanting to expand their friend circle can use Bumble BFF 

Bumble Bizz

: This business-focused mode enables you to find networks and mentors and explores new career opportunities.
Top Features
Both sides have only a 24-hour window to respond
Start video chat with your match 
Verified users will have a tick mark on their profile
Available in over ten languages
6) Badoo: One of the best dating apps In Bangalore In 2023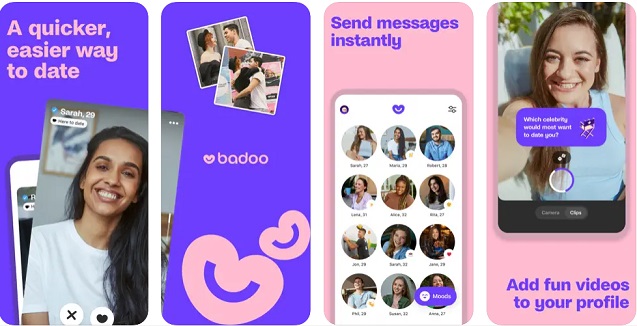 Install: 10 CR+ Downloads
Rating: Play Store-4.0 Star/ App Store 4.6 Star
Badoo is one of the top dating apps in Bangalore and also worldwide that helps make real connections. Moreover, that platform is more than a dating app, enabling users to find a partner or locate friends with similar interests. You can meet people looking to date around you, swipe right or left to connect with people, and talk to your matches with video calling. Moreover, Badoo has a three-step verification process for verified profiles, plus even blurs intimate photos while finding potential matches. 
Badoo is free-to-use and also has a Premium with extra features such as viewing who liked your profile, finding out which user added your profile to favorites, and more.  
Top Features
Find friends as well as potential dates with the help of special filters
Share your pictures from different social networks
Invite any friends to Badoo as well as share profiles that interest you
7) OkCupid: Meet singles and build a great connection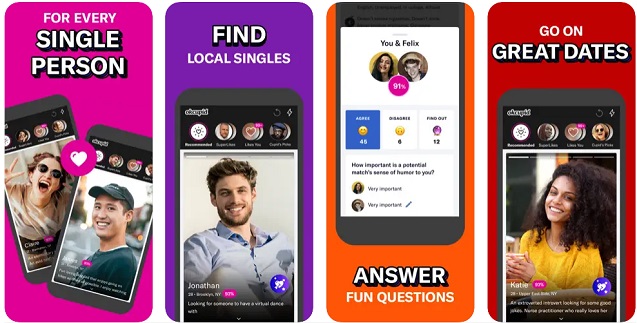 Install: 10M+ Downloads
Rating: Play Store-3.8 Star/ App Store 4.3 Star
OkCupid is a well-known app that helps find and connect with singles using its one-of-a-kind messaging system. During the sign-up, users have to answer some unique questions that allow the app to match with people, plus also present compatibility %. Moreover, the platform helps locate someone you like for casual dating or marriage and helps create a dating profile highlighting what matters most to you.
Top Features
Adjust your dating preferences, such as straight, gay, or anything else
A unique messaging system to interact with new people
Use the app to set a virtual date as well as a coffee meet-up in the future 
Local dating option help meet others living nearby
View who likes your profile without liking their profile them first
Advanced filters plus extra options to search singles
8) TanTan: A great platform to find the perfect match in a busy work life!

Install: 5Cr+ Downloads
Rating: App Store 4.7 Star
Available in 9 different languages, Tantan is one of the best platforms to meet, chat, and date Asians and Asian Americans. After two users like each other on the app, an instant chat will be available to help understand each other. Furthermore, users can buy the VIP Membership to enjoy more features such as 5 Super Likes every day, unlimited rewinds plus likes, location change, and more.
Top Features
An ice-breaking option where the user needs to answer ten fun questions and help any match understand you better
Initiate a live chat with efficient matches and reply instantly to those you like
Never obtain messages directly from random people that you do not know
Hide your contacts, and they won't be visible in the search
9) QuackQuack: Match, meet and date people you like!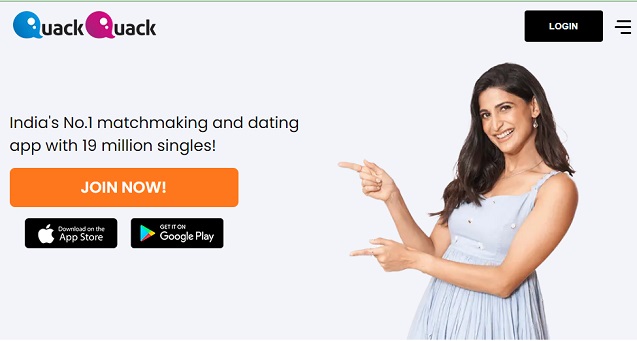 Install: 1Cr+ Downloads
Rating: Play Store-4.7 Star/ App Store 4.3 Star
With over 20 million registered users, QuackQuack is a popular dating app in Bangalore that helps find matches based on your city, interests, plus age group. Just click a button to let someone know you like them and start a conversation if they like you back too. Moreover, all user profiles are verified by QuackQuack moderators to ensure genuine connections, and all the information plus photos are saved with robust back-end systems. The free-to-use app, however, even has a Premium membership that will unlock several features.
Also, Read: Movie Tickets Booking Apps In India (2023) # Top 5 List
Top Features
Available in English language and has a huge Indian user base.
Smooth and easy-to-use interface
Find a date or make new friends
10) Woo: The ideal platform to find meaningful romantic connections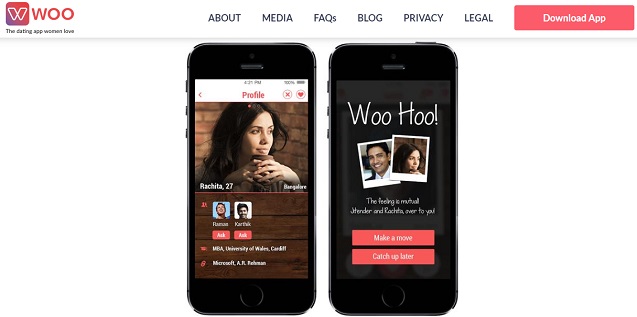 Install: 1Cr+ downloads
Rating: 4.1 Star on Play Store and App Store
Successfully matched more than 3M single men and women, Woo is a popular app to help find like-minded people who will be perfect for you. The platform presents a bunch of 'Verified Profiles' and helps find the perfect people based on your interests and location. After browsing all the potential matches, build a serious relationship and like or dislike someone by swiping left or right. If both sides like each other, then a private chat room will initiate to help start the conversation.
Top Features
The platform is always free for Women to use
Place a voice call from the app, and the number will remain hidden
All details of single women remain confidential
Find single men or women with common interests using tags
It's time for you to start dating
The ten dating apps listed above are the best for finding someone you like, meeting new friends, or making new connections. Apps such as Tinder, Bumble, Hinge, Happn, and OkCupid are already famous platforms that contain over 15cr downloads combined and present an extensive user base of men and women. On the other hand, Woo, QuackQuack, TanTan, Badoo, and Aisle are also great for finding matches based on personal preferences.
Overall, all the platforms listed above have a track record of matching singles from all over the world, plus they offer advanced options along with great in-app features to help filter out your search and find the perfect match.
FAQ's
1) Are Dating Apps in City Names Safe?
Adding the name of your city in the app is safe as most of the platforms above protect their user's information. Also, some apps allow you to hide your city/location from your profile.
2) Is Tinder the Best for the City? 
Tinder is a great app that lets you set a location along with coverage area/radius.
3) Which Dating Apps Support Different Languages?
Most of the apps above support different international languages; however, the number of regional languages is less.