Best Dating Apps For Indians In USA – Top 10 Choices!
How often does it occurs that you are surrounded by a group of people but still find no one worthy enough to talk and share the part of your loneliness? Well, this kind of situation has not become so rare these days. People, not just in India but across the globe, need somebody with whom they can share their feelings, how their day is spent & their take on love life and social culture.
The studies show that in the abundance of today's time, where nobody has much time to listen to others and spend some quality time with them, the time market of Dating apps is expected to boom. In the USA, 30% of Adults use dating apps, which is even higher for younger adults.
When situations become like that, it's better to go with the flow and understand that there might be something as to why these apps have become so popular.
We have dug and compiled a list featuring the ten best dating apps for Indians in the USA. In this article, we will examine the distinctive features and advantages of each of these applications so that you can arrive at an informed choice regarding which one to use.
Why Should Indians In The USA Go For These Apps?
As we all know, there is a large population of Indians that are living in the USA. So, it becomes essential to cater to the needs of dating apps for this significant community. The focus of these dating apps is more on providing compatible partner to Indian Users in the USA that fits their Indian traditions and values.
Being new to dating apps, it might be a chance that Indians may not feel ready to adapt to such apps. But here we have some worthy explanations on why one should give it a try to these apps.
These dating apps for Indians have an inbuilt feature to customize search results, using which Indians can quickly look for their preferred partner in the USA. Also, these apps are exclusively designed for the Indian community, so they also provide the factor of belongingness. You can safely use it and rely on its personalized services.
Also, Read: Best Dating App In Bangalore For Android & IOS (2023)
The USA is one of the most prominent hubs of the Indian community, the user base is wide here, and the culture of Indians does vary here as well. So, dating apps have a good market significant yet more extensive user base of Indians.
Indians in the USA are much more concerned about their privacy and safety, and these dating apps provide both. These apps do not just provide a secure platform to Indians, but also they do maintain confidentiality over these dating apps.
Advanced Matching Algorithms: 
These dating apps have extensive inbuilt matching algorithms using which they not only effectively provide compatible search results to users but also serve their needs better. These apps consider users' preferences, likes and needs in their algorithms by which users' dissatisfaction chances almost get nil.
Top 10 Best Dating Apps For Indians In The USA
These top 10 best dating apps for Indians in the USA are backed by solid research and intense efforts before being presented. We found these apps unique and exciting for our audience because of the safety they provide in the dating world and the number of features. So, let's begin.
1) Aisle – Never Miss A Chance To Connect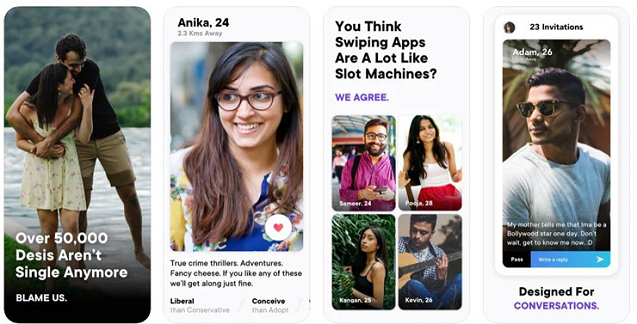 Aisle is also one of the notable and best dating apps for Indians in the USA. This app focuses more on creating long-term relationships with users rather than casual dating. The user interface is good, and service delivery among users is at par level.
Aisle will help you find a perfect match that can emotionally connect with you. Aisle offers an easy way to interact with worthy companions if you're seeking a long-term relationship.
Features That We Liked
This dating app is made to cater specific needs of Indian people. 

Aisle has a promising and extensive user base.

The application is completely free to download and find compatible people.

The feature quizzes will help you find the right one in no time.

Aisle takes privacy and security features seriously.
2)

TrulyMadly – Be Your Own Matchmaker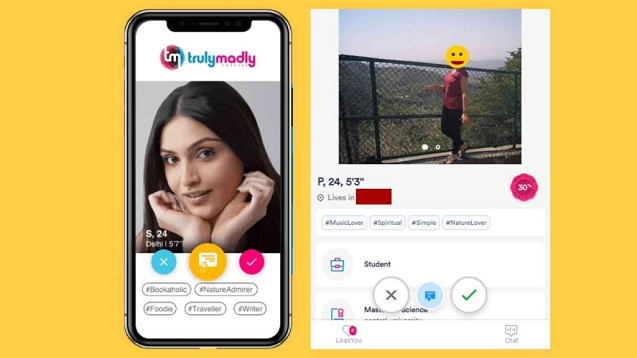 TrulyMadly is one of the most trusted dating applications for Indians that's extra soft on service delivery but pretty strict regarding the authenticity of platform users. It has an inbuilt stringent verification process, making all the user profiles authentic.
This app is more inclined to deliver relationships that matter the most. The audience of this application is an exclusive Indian community mainly residing in the USA and other major countries.
Features That We Liked
The detailed, comprehensive profile page section of the application is too good.

Safety & Security features promise protection against fake profiles.

It has a user-friendly algorithm.

It emphasizes meaningful relationships.

It gives a clear look at your partner with a compatibility quiz feature
3)

Elite Singles – Dating For Professionals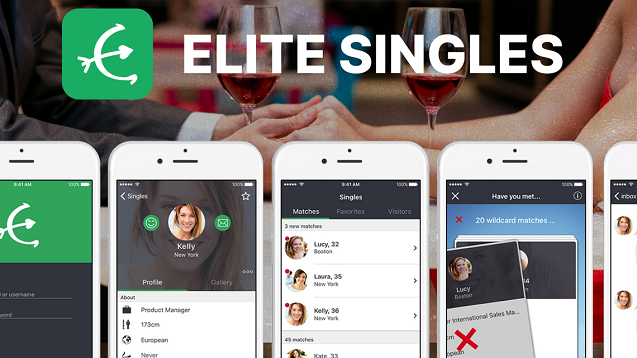 Elite Singles is a dating app designed for professionals pursuing long-term relationships. The users of an application must hold a bachelor's degree. The application is more inclined toward highly educated and career-focused individuals. Elite Singles has a user base of more than 13 million singles globally, with a majority living in the United States.
Also, Read: Best Dating Apps In Mumbai (India) – Sign Up Guide 2023!
The app features a personality test, which evaluates a user's personality and provides referrals for suitable matches based on its findings, one of its most notable features.
Features That We Liked
Elite Singles matching test is one of the most promising and unique features.

13 million+ users community.

Superior services for varied types of customers: Elite Singles cost.

The application is free to download and access.

It has been providing trustworthy service since 2009.
4)

OkCupid
 – 
Unlock Your Heart, Not Just This App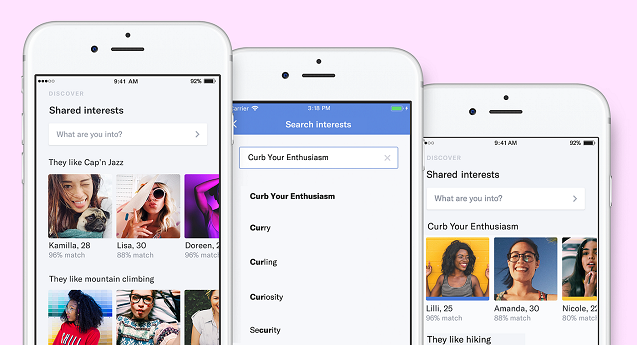 OkCupid is another one of the best dating apps for Indians in the USA that has a huge community of Indian users on its platform. Their algorithms are at par with similar apps in the market; it provides a creative yet engaging way to connect with a community.
And in addition, their matchmaking test is liked a lot by their clients. If you are looking for a famous yet effective application exclusively for the Indian community, then look no further because OkCupid has got your back.
Features That We Liked
OkCupid offers a unique and fantastic matching algorithm.

It has an entertaining and creative method for connecting with clients.

The platform provides connection cards for sending eye-catching texts.

OkCupid has a comprehensive matchmaking test to find the right one for you.

The best perk is its many free features before purchasing a membership.
5) QuackQuack – Lets Date!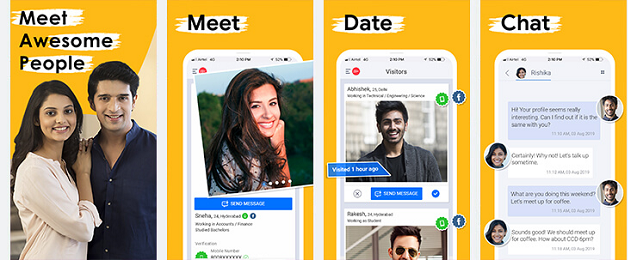 QuackQuack is another dating app with brilliant features. It's a great dating app for Indians in the USA because of its trustworthy performance record.  The algorithm the company uses is mind-blowing, making it super easy for users searching for dating companions. This app comes in two variants. The first one is cost-friendly and easy to use, with no access to additional features like who has viewed your profile.
But if you wish, you can also opt for the paid version of the application that provides you with all the necessary additional features, such as – who has viewed your profile. The application interface is also pretty good, making it easier for users like us to use.
Features That We Liked
User-friendly interface.

Safety features with utmost care.

QuackQuack has both free and paid versions available.

The platform offers a profile viewing option.

Chatrooms make QuackQuack more unique and engaging.
6)

Woo – Find The One From Anywhere In The World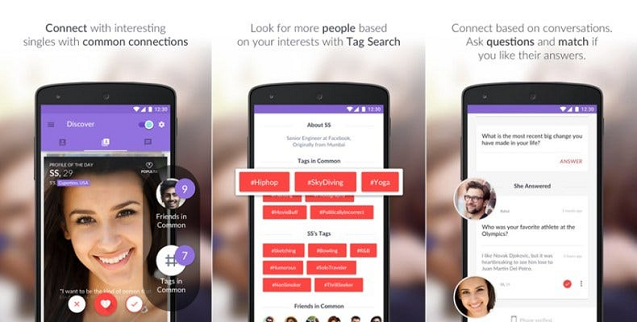 Woo is a top-rated dating app in the United States, and it has its own user base developed after its continuous delivery of good results in the market.
It has a standard Dating user interface with an option for Q&A with their clients. Using this feature, people can pose questions related to the partner with whom they date, and in return, the other party can give answers to those questions.
This is one of the most likeable features of the app. Woo also has an option called Woo Globe that allows users to interact with other community members across the globe.
Features That We Liked
Woo offers an engaging Q&A feature that allows users to initiate communication.
The Woo Globe is a prominent feature to find connections and chat with anyone globally.
It offers advanced search filters to find the right one easily.
Introduce yourself with the voice intro feature.
It has a boost feature that will give your profile an extra push to get noticed.
7)

Hinge – Make Happy Connections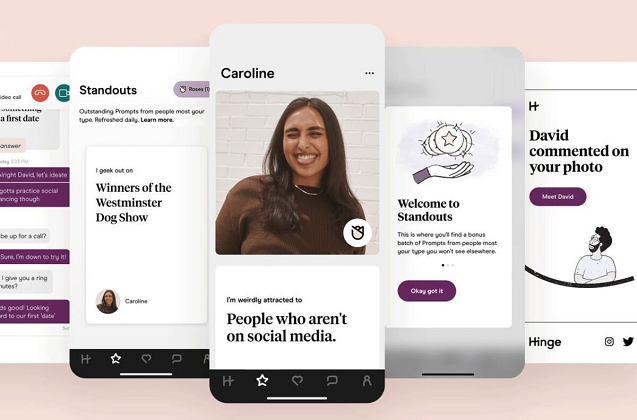 Hinge is a dating application that serves users to help with long-term relationships. This best dating app for Indians in the USA uses a friendly interface with cool, exceptional features like video prompts and a detailed profile check option.
These unique, likeable algorithms make this app popular among adults.
It also has a cool swiping feature that makes it stand out. Hinge is ideal for discovering compatible partners due to its unique pairing algorithms, massive user bases, and intuitive user interfaces.
Features That We Liked
Hinge offers a free video-adding feature on the profiles of the users.

This dating app will give you detailed profile accessibility.

Hinge offers a top-notch user-friendly interface. 

Safety and security features at par.

Hinge has a larger user base.
8)

Tinder – Engage Your Dating Life, One Swipe At A Time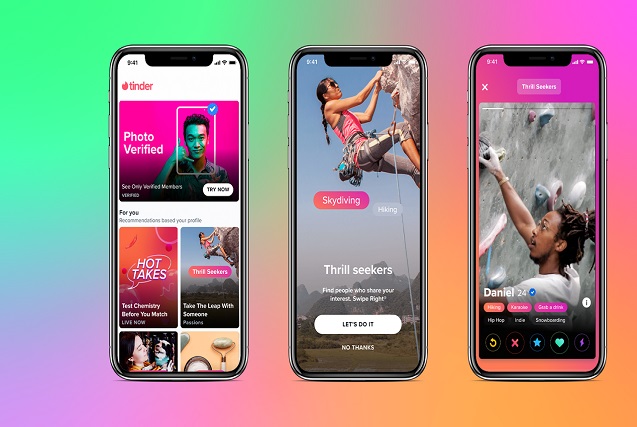 Tinder is the world's most famous dating app in today's time. But it's not on the top spot on our list as this list caters specifically to Indian needs but have no doubt it's still a great dating app for Indians in the USA. Tinder is said to be the 'most dependable matchmaker app' by a lot of users. The features like Tinder Plus and Tinder Gold make it unique and engaging.
Also, Read: Best Dating Apps In Delhi: Top 10 For Android & IOS (2023)
It gives an additional touch to the experience of the users. Tinder is making it easy for everyone to find new people. The additional features help you with Unlimited likes, so you don't have to choose between the people you like—just like and swipe.
Features That We Liked
Tinder Plus and Tinder Gold are additional features that can boost your profile.

Tinder is a free dating application to access without any hidden charges.

You will get used to the matching algorithms, which ultimately serve users more effectively.

If you want to discover who's interested in you and stand out, then Tinder will serve you right.
9)

Dil Mil – Make Dating Real Again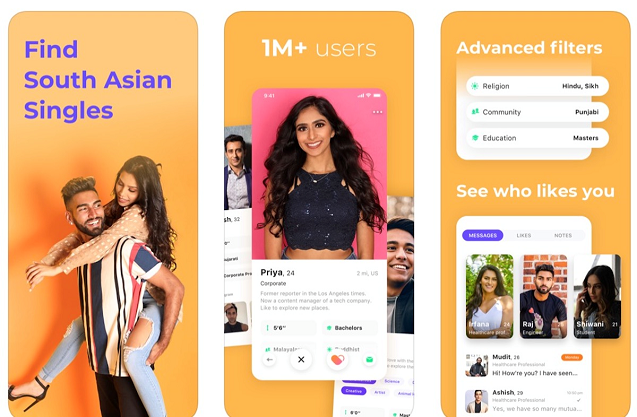 Dil Mil is another super famous dating app for Indians that is uniquely designed. This app has a fun Algorithm that allows users to communicate effectively with strangers and potential companions. Dil Mil had some good results in the past, where they provided a platform for strangers to get to know each other better. And ultimately, it led to a long-term relationship.
Also, we found that this app has one of the most legit users. All the while using this app, we didn't see a single bot or fake profile, and that's after having over 70 conversations.
Features That We Liked
It provides an advanced matching algorithm for the users compared to other platforms.

Dil Mil offers a modern, user-friendly interface.

This dating app is safer, and your privacy will be maintained. Rest assured.

The platform is an exclusive client base.

You won't come across a fake profile on this app often.
10)

Bumble – Your Soulmate Is Waiting!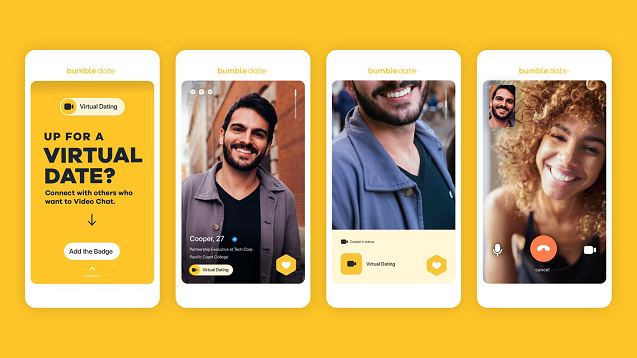 Bumble is an application that caters mainly to women, and it was designed with women in mind, but that doesn't mean it is not meant for men. We loved the women make the first move feature a lot. The app provides an interesting way to initiate communication with like-minded people.
Privacy is no issue in Bumble; users can communicate freely with anyone.
It also features two additional modes in the app, Bumble Bizz and Bumble BFF, which let you meet people for business purposes and if you only want to make new friends making it a great dating app not only for Indians but people from everywhere.
Features That We Liked
If you want a free-to-download, pocket-friendly dating app, then Bumble is the one for you.
The internet is sketchy, but reviews from 100 Million+ users of Bumble will serve as a promise. 
The platform offers easy and quick signup with comforting accessibility.
It provides a likeable user interface.
Conclusion
This fact is that everybody needs someone to share their life updates, the good or bad parts of the day. So, when it comes to relationship building, in modern times, there's nothing better than opting for these dating sites. Here you will not only interact with people similar to you in terms of habits, but also you may find a partner for your life. If you are an Indian residing in the United States, feel free to give these applications a chance to discover where they lead you on your romantic voyage.