WhiteHat Jr Teachers Review : Fairly Good Or Exploitative? Find Out!
WhiteHat Jr is a well-known name in the coding world. If you are impressed with their advertisements floating all over the Internet and aspire to be a WhiteHat Jr teacher. Know all steps here from this teacher's specific review.
It weighs all the pros and cons of this program, let you know the important features of this program, and a few other important things like how much teachers are paid here, what is the job requirement and what is their selection process, etc. Here is a detailed and all-inclusive review to guide you in the right direction.
What Is Whitehat Jr.? Everything You Need To Know!
Whitehat Jr. is a Mumbai-based company set up by a group of technopreneurs. It offers a coding-learning platform for children up to the age of 14. The company works on the mission of making creators of technology in the world where consumers of technology are rising steadily. The platform is meant for taking live 1:1 classes for young kids who aspire to learn to code. At present, Karan Bajaj is the CEO of Whitehat Jr.
Why Become A WhiteHat Jr. Teacher?
There are several reasons good enough to be a teacher at WhiteHat Jr. It is a Mumbai-based company, and through its advertisements all across the Internet, it has become a well-known name in every household. The company came into being with a motto of teaching programming language to kids from a young age.
One of the main reasons why coding experts and suitably qualified teachers want to be a part of WhiteHat Jr. is their attractive pay package. Teachers working here can expect to earn more than 50 K per month and can select their hours of teaching.
✔WhiteHat Jr Teachers Can Expect to be Paid Very Well:
If you are an IT professional who has lost his/her job recently following the lockdown, you can expect to get paid as much as you were paid working full-time from your office. Yes! You can be paid more than 50Kor up to one lakh per month if you get selected to work as a teacher here.
✔WhiteHat Jr Teachers Can Work Anywhere and Anytime:
Since the classes are conducted online, teachers have the liberty to choose at what time they want to teach and skip teaching when they do not feel like it. Also, they can choose to work from any location they like. Flexible working hours is another point of attraction for teachers. They can fix their schedule and set their hours of teaching.
✔WhiteHat Jr Teachers Get Valid Certification:
Working at White Hat Jr. is bliss for the teachers. They can get a valid early childhood coding expert certification which they can use in the future. White Hat Jr. is an authorized body to certify teachers, and once you work here as a teacher, you can teach coding to the kids right from standard 1 in major institutions all across the nation.
✔WhiteHat Jr Teachers Do Not Have to Make Extra Efforts in Preparing Scripts:
White Hat Jr. provides a structured script to the teachers. So, they do not have to work on preparing their own script. They have 50 minutes of interactive class with the students where they have to follow the script given to them.
Cons of WhiteHat Jr. | WhiteHat Jr. Teacher Review
There are a few drawbacks of WhiteHat Jr. also, which you should be aware of if you wish to apply here:
There is a penalty for teachers in case…
If, as a teacher, you cannot complete 30 hours per week which is a stipulated time, you are expected to adjust these hours in the forthcoming week. WhiteHat Jr. levies a penalty of 550 Rs per class if the teacher has agreed to take up the class but does not show up.
There is no provision for paid leave or medical leave.
You have to complete the minimum probation period.
Once you get selected based on the interview and demo class, you will be on a probation period of 6 months which means that you cannot leave before that.
What Do You Require To Have For Being WhiteHat Jr Teacher?
If you aspire to earn high while sitting in the comfort of your home by working as a teacher in White Hat Jr., you need to have the following:
✔Ready to Teach Kids As Young as 6-7 years:
You should join White Hat Jr. only if you have a passion for teaching young kids, as you would be required to teach kids as young as 6 years and on. So, if you are not averse to it, you can apply.
✔ High-Speed Internet To Ensure Connectivity:
All the classes are conducted live online. You need a good internet connection. So, ensure that your network's speed does not go below 20 Mbps and that you have at least 1 GB of data daily.
✔PC With Good Microphone and Camera:
Apparently, sound audio and video system should be in place because the classes are conducted online. You need to have an upgraded PC at home with a good camera and microphone.
Apart from that, you should be logical and a quick thinker. If you have patience and think you can make young kids learn proficiently, then you are eligible to be a teacher at Whitehat Jr.
How Are WhiteHat Jr Teachers Selected? | How do I Become A WhiteHat Jr Teacher?
If you are a coding expert attracted to the lucrative salary and other privileges that White Hat Jr. offers, then you can be a teacher here. Most of you suitably qualified people reading this White Hat Jr. review would want to know how teachers are selected here.
It is a simple 4 step process:
◼ Telephonic Interview:
If you feel you are eligible to apply, you can apply for it online. If your application is sorted out, you will get a call. You should be ready for it after about a week of your application. This is just an introductory round where you tell about yourself, and most candidates pass through this round.
◼ Live Demo Classes:
There can be 3 or more demo classes to ensure you know what you are supposed to teach and can impart it clearly and confidently. A majority of the applicants cannot make it up to the third round and get eliminated here in this round.
◼ Tech Check:
Tech Check, or the technical round, is the third step which consists of a number of brain teasers and technical proficiency tests to evaluate the problem-solving skills of the applicant. During this round, the interviewer assesses how well the interviewee can perform when technical questions are asked. This round tests whether the applicant has the required technical expertise for the job.
◼ Training and Certification:
If a candidate can perform well in the above rounds, the third and final round comprises checking and evaluating certification. Applicant's claims about their training and certification are verified in this round.
Once you clear all these three rounds, which take about a week only, you will be incorporated and can choose your hours to teach. If you want to maximize your earning potential, you should choose to teach between 4-8 pm when most students are available.
Though the official website of White Hat Jr. states that there are five rounds, those who have actually taken up their selection procedure say that a phone interview followed by curriculum submission in PDF format, a live demo class, and finally, a technical round happens.
What Do The Teachers Recruited By White Hat Jr. Have To Say About It?
Different teachers recruited here have different reactions to the platform. Teachers working here have to take classes continually for 4-5 hrs a day a week, or they can choose to teach 6-7 hrs a day for 5 days, whatever suits them.
Teachers are given training as per their role, and lady teachers are more than happy and satisfied with working as a teacher for WhiteHat Jr. because they are paid a very good salary and can work full-time from home. Most of the teachers are of the common view that management is congenial and friendly here.
Also, WhiteHat Jr. trains the teachers free of cost and certifies them also for "Coding Expertise" once they complete 500 live classes here. Those who know the fundamentals of Object-Oriented Programming (JavaScript) and can help the students learn how to design apps, animations, and games, etc., are encouraged to apply here.
Do People Really Need to Know Coding to be a Whitehat Jr. Teacher?
Incredible though it may sound, yes, to be a teacher in Whitehat Jr., you do not need to know to code. They have a beginner, intermediate, professional, and advanced levels of teachers. You can apply for the beginner level if you do not know how to code but have excellent communication and teaching skills. You get easy to comprehend set script, and you do not need technical expertise for the same.
Is WhiteHat Jr Teachers Interview Really Tough?
Two skills are very important for you if you want to be a teacher at WhiteHat Jr. You need to have a passion for teaching and be fluent in English. Your availability also matters. If you are available to work from 4-8 pm, you stand a good chance of getting selected. Their selection criterion is simple, and more than your coding skills, they check whether you are comfortable teaching a primary student in a live demo.
If you can teach a child in a fun-filled way and are at ease during the online teaching sessions, you can make it to the selection process. You should have some basic knowledge about screen sharing etc.
Also, check Our Whitehat Junior review from Parents and Students.
Would You Be Charged To Be A Teacher In Whitehat Jr.?
No, there is no program fee or upfront fee that Whitehat Jr. charges from you. You just have to clear three rounds of interviews that they take.
Do The Teachers Working Here Get A Fixed Salary, Or do They Get Pay According To The Classes They Conduct?
As a teacher at Whitehat Jr., you get a fixed monthly salary of Rs 10 K/month, and the income varies depending on your classes. If you are chosen as a beginner teacher here and lack technical expertise, you will get Rs 275 for a class and a fixed salary of Rs 10,000.
Can Whitehat Jr. Be Depended On For A Regular Source Of Income?
Women who love to teach and can speak English fluently can teach in Whitehat Jr. and depend very well on them for a genuine monthly income. The popularity of this platform is increasing; in the coming years, more students are expected to join this platform. Even at the beginner level, Whitehat Jr. pays 275 Rs per hour.
Also, unlike so many other teaching programs that pay the teachers according to the students enrolled, Whitehat Jr. gives a fixed monthly salary to its teachers and pays according to the classes they take. It is a genuine platform for teachers.
FAQs By Those Who Aspire To Be Teachers At Whitehat Jr| WhiteHat Jr Teachers FAQs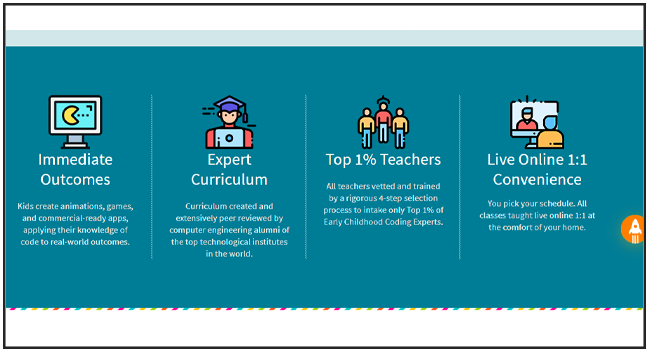 1) How long does a WhiteHat Jr Teacher need to take a Class here?
Each class is for about 50 minutes or so.
2) What if Class gets interrupted due to Poor Internet Connectivity?
There are a lot of cases wherein classes get disrupted in between due to Internet issues. There is a "Reconnect" button. If there is an internet issue from the teacher's side, the class will not be paid for and will get rescheduled. So, good Internet connectivity is a prerequisite.
3) Do WhiteHat Jr Teachers design their teaching materials before taking their Classes?
No teachers do not have to design their teaching materials as they follow a pre-designed structure. They can have a preview of it on their portal about 6-12 hours in advance.
4) Are the same set of students to be taught?
No, they can teach any set of students that are booked for the program.
5) Is there any limit to the classes that WhiteHat Jr Teachers can take?
There is no set limit on the classes. Teachers can teach as many classes as they feel comfortable with and earn.
Teachers are given an interactive custom platform that resembles Skype and works similarly. So, if you have used Skype, you can use their online sessions comfortably.
Conclusion: The Final Verdict
Whitehat Jr. is a great paymaster and a genuine earning platform for WhiteHat Jr Teachers. Nothing can be better than this for the WhiteHat Jr Teachers who want to work flexible hours from home. The mission of this company is to help young children learn to code efficiently so that they can create apps, animations, and websites. Being a WhiteHat Jr Teacher would enable you to earn well from the comfort of your home and get certified for the same.
A lot of WhiteHat Jr Teachers are participating in this active online learning program offered by Whitehat Jr. Also, the company has fetched plenty of positive reviews from the teachers working here. They provide salary right on time, have good management and good work culture.  Teachers can also expect to get bonuses and appraisals from time to time if they perform well.
As a teacher, you would be trained for 3 days and learn what to teach.