Hashtags can be used effectively to gain exposure for your brand or business. However, it is important that you know what hashtags to use and how to use them in order to maximize results.
The popularity of using hashtags has grown exponentially on social media platforms such as Facebook, Twitter, WordPress and Instagram. It is an effective tool for businesses looking to expand their reach into markets they would not have access otherwise. Since the hashtag gives users multiple options to search for a specific topic, this helps increase exposure at a much faster rate than simply posting content with only one specific tag assigned. This feature allows users to search beyond the current platform which can bring more traffic and attention from new audiences organically.
In order to make the most of your hashtags, it is important to know how to create one and make sure that you are not using any spam or irrelevant information.
This blog will give instructions on how to create effective hashtags and how proper use of hashtag strike your business positively.
What Are Hashtags And Why Do They Matter To You?
Hashtags are used as tagging words or phrases that categorize content on social media platforms. When a hashtag is used, it will link to a search page on the algorithm of the specific platform this information is being shared from. Depending on whether or not you change your settings, anyone seeing your post will be able to click and see which other users have used the same hashtags you have chosen in their own posts.
Hashtags can also be searched for, and if they are relevant enough, these results may show up within the main stream feed of those who do not follow any accounts using that particular tag.
How To Find The Right Hashtag For Your Post
There are multiple ways that you can find hashtags to include in your social media posts.
Many websites exist for the sole purpose of creating a hashtags list. You can choose one or multiple tags from available lists in order to improve your chances at increasing exposure on social media platforms such as Facebook and Instagram.
Another way you can find hashtags is by doing an online search using relevant keywords related to your post, industry or target market. The results returned will show popular terms and phrases being used across all types of different sites including blogs, forums, news articles and more with varying degrees popularity which gives you plenty options when it comes time to finalize choices for what you want included as a tag within posts on specific networks like Twitter, WordPress etc…
A third option is to simply type # into the search bar of your platform and see all of the top trending words or phrases people are currently using to describe things relevant to what you have posted. The last option would be to ask someone within your industry who has already created considerable exposure for themselves as an influencer on the platform you intend to use.
These individuals will likely have a good understanding of what tags work best for their content. This is another great way to reach potential new users who typically do not follow influencers, but may stumble upon your post thanks to its relevancy being shared throughout this person's network of followers.
Once you have chosen the most relevant and appropriate hashtag for your post, it is time to begin using them as intended. It is important that you do not spam hashtags by adding more than two or three per post. The purpose behind using hashtags effectively is that those searching can find your content and make sure it stays relevant in relation to other posts with similar information.
In order to achieve maximum exposure, you want to make sure that the hashtags are specific enough that they do not become overly general and irrelevant to what you have posted.
Helpful Resources For Finding The Right Hashtag
There are a few different resources online you can use to create effective hashtags for your social media posts that will help grow your exposure.
Hashtagify.me – This is one of the most comprehensive hashtag finders on the web, and it takes what you type in and tells you exactly how many people search for things related to this phrase or keyword each day. You can also see which account names, brands, or real life individuals currently use these tags most often as well.
Topsy.com – Instead of searching by keywords or phrases, this tool allows users to search by location instead! The results give you the top tweets with hashtags from specific areas all over the world based on their popularity within that area alone.
TwapperKeeper – This site is another excellent way to search by location or topic keywords and see what posts have received the most attention over time from users on Twitter. It also allows you access to real time activity on the platform when searched for hashtags or keywords.
Using Hashtags In Your Social Media Posts Effectively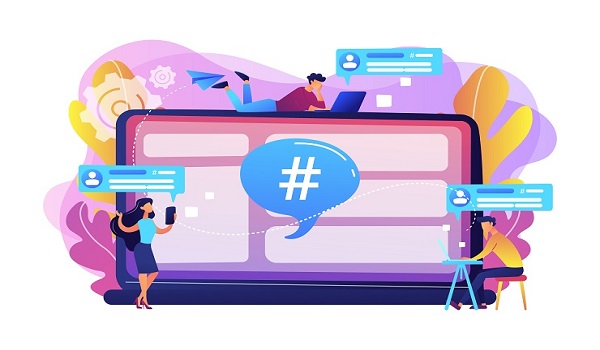 There are many different ways to effectively use hashtags in your social media posts, and you can also get some beneficial ideas by looking at what others are doing successfully on the same platform.
When it comes to using hashtags in a post, there are two main places that most businesses choose: above or below the actual text of the post itself. You may want to include one or two at the beginning of your posting as well if you have room available for them. It is important that you do not overcrowd hashtags in a single post since this could make it seem spammy and desperate instead of professionally designed visually appealing content.
The purpose behind integration of hashtags into each post is to ensure that everything you share has a high chance of being found if the right people are searching for it. This means original content must be created as well, but once you have published it online and added relevant hashtags, you can consider your work half done!
Takeaway
With a little bit of strategy and planning, using hashtags in your social media posts effectively will help grow brand awareness while also reaching new potential customers at the same time. By applying the points discussed in this article, you will see an increase in your brand's engagement. You may even be able to generate more leads or sales by attracting new targeted audiences that would have not found your company otherwise!