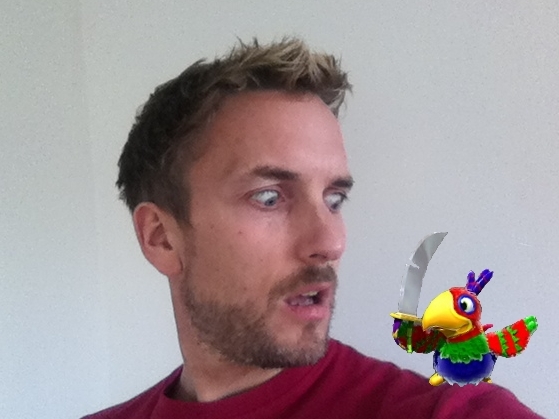 Remember that time of your childhood when you spent hours and hours glued to your computer/ TV screen, frantically thumping the bottoms of a controller? When it was all about end of level baddies, making your Sims fall in love, and becoming the most successful railway operator in Africa? Well, for those of you who do, Gregg Mayles may be living your childhood dream.
After a misspent childhood playing video games [his words not ours!], Gregg discovered a secret warp that transported him to an equally misspent adulthood creating them. [Sounds pretty awesome if you ask us…] Turning down a respectable vocation in banking, he joined Rare in 1989 as a games tester and soon became the company's first dedicated games designer. Since then, he's worked on and creatively guided a diverse range of games, including the coin-operated arcade version of Battletoads, Donkey Kong Country on the SNES, Banjo-Kazooie on the Nintendo 64, Viva Pinata on the Xbox 360 and most recently the double Bafta-winning Kinect Sports games for the Xbox 360 Kinect sensor. Worrrd.
He's worked in most areas of game design, but has a particular interest in player experience, game mechanics and prototyping.
At CS Sessions, he'll be donning his armour and shield, and invite us on A Journey of Treasure and Trolls.
Behind every complete game is a well-trodden trail of observation, experimentation and problem-solving. Ahead of each new game is an intriguing map that promises treasure. But the map has parts missing, the location of the treasure is uncertain and the path is guarded by trolls of doubt. Exploring beyond the realms of the known requires even greater skill and courage: the map has been stolen, the treasure is unknown, the trolls are giants and sometimes there isn't even a path at all.
Sharpen your sword, pack your provisions and join Gregg on a treasure hunt into the past, present and future; searching for inspiration behind games, working out how prototypes help defeat the trolls, and exploring where innovations such as Microsoft's Kinect sensor could take interactive experiences in the search of yet to be discovered treasure.
Nuff said. Get your tickets here.