A couple of weeks back I had the privilege of speaking at a conference with Daniel Granata who is the Creative Technology Director at GrupoW – if you do not know of GrupoW then I am not sure where you have been locked up for the last few years. Their work over the last few years has included Rexona's Stunt Man and Action City, and Nike's Juega10. Here just look at their showreel to get a real idea of the quality of their work:
Grupo W Reel from Grupo W on Vimeo.
However their story fascinated me – they were founded in 1999 in a small town in Mexico called Salitillo by Miguel Calderon and Ulises Valencia. I think it is fair to say that Saltillio would not be considered a primary holiday destination and there is really not much to do:

Yet despite this they found a home and grew relatively quickly and are now 60 strong with a brand new home which provides the team with a fantastic environment in which to work and have fun:
Certainly speaking to Daniel this idea of fun is a really important one (in all the photos I saw the staff are smiling) and to a certain extent GrupoW is their staff's home as opposed to Saltillo. This seemed to resonate with what I had heard about the success of North Kingdom whose offices are quite isolated North of Sweden and the only thing to do is work. Maybe there is something in this, especially if you create an environment whereby people love what they do and consequently never work a day in their life.
However perhaps the thing that impressed me the most about GrupoW was the fact that having exhausted the talent pool in Mexico, and with universities unequipped to deliver the right kind of talent, they simply opened up their own school. Every 3 months they put a call out for applicants and they put them through a review process and those lucky enough to get through, get to spend 3 months being taught the skills they need in the industry at no cost. The costs so far have been subsidised by their sponsor, Vanguardia, Saltillo's main newspaper who are supporting this project long term. They will however soon be opening up to new sponsors, ones that match the creative concept of the school ie are open for fresh and different ideas, with a digital heart. Daniel Granata said "One day we decided that it might be easier teaching people ourselves, trying to recruit the best of them for the agency, but also trying to feed the whole industry with this new digital seed." Brilliant. You can find out more about the school here:
Digital Invaders // Case Study from Grupo W on Vimeo.
When I asked Ulises Valencia, one of the founders, what the ambitions for GrupoW were for the next 3 years, he said
""We want GrupoW to become the most relevant agency in the hispanic market, working on projects with personality and making our ideas the topic of conversation among users. We also want to keep a good reputation at the production level. We want keep growing and changing but retain the focus of trying to do remarkable work, and to professionalize ourselves in this race where everything changes and nothing is permanent. Finally, I'd love if the agency would keep that spirit of eccentricity in our environment but normality when in other places of the world… and never the opposite."
—————————————————————————————————-
Grupo W – Facts and Figures
Date founded 1999
Offices Saltillio and Mexico City
Number of Staff 60
Key clients Unilever (Rexona, Knorr, Dove, Axe), Televisa, Coke
Founders Miguel Calderon, Ulises Valencia
Positioning We provide solutions for our clients' communications and functionality needs using digital tools. It could be said that we're an
agency doing digital stuff
Recent piece of work that most inspired the team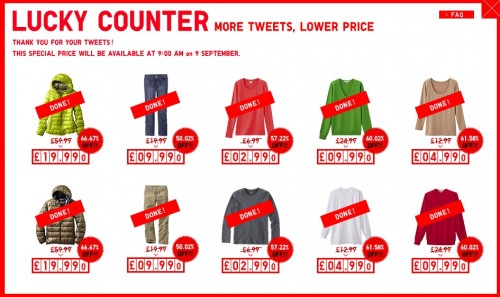 Uniqlo's Lucky Counter campaign, tweeting to get a discount at the launch of the online store. "A small but strong idea building the brand like little bricks, very neat, and smart"