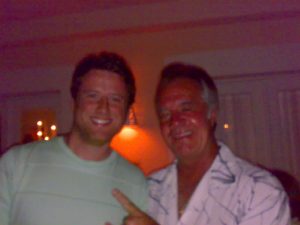 I had a very enjoyable time in Miami for the Clio awards last week.
The highlight was meeting Pauly from the Soprano's. Anyone who watches that show might be able to appreciate my excitement when i spotted out of the corner of my eye those trademark sliver streaks of hair.
Contrary to the photo, he was a right grumpy bastard.
Onto the awards, the judging process wasn't perfect. You did two rounds online and that was it. All the other disciplines (apart from radio) met up and debated the work.
A lot of the other big award shows do have digital judges meet up and discuss the work, it is easily the best and most important part of the process, and i think the Clio results suffered as a result, and it once again seemed like the digital judges were too harsh on anything that didn't either invent a product or connect everyone on planet earth.
True standards have to be kept, but I think it is a fault of online awards that sometimes great advertising doesn't get noticed unless it is pushing the medium. This happened at the infamous D&AD 2004 awards where we didn't even give out one nomination, come awards night our whole industry was passed over. Bloody stupid. Bloody disastrous.
On another note, no matter how much barking on by digital people about how media is changing etc etc it's the little things that show you the real state of play.
An example of this was the awards nights themselves, the digital night was half full and the after party was hosted at a nightclub called Cameo's (whatever you are imagining is exactly what it was like). The h'orderves were mini cheeseburgers, tacos, mini hot dogs etc.
Cut to the TV awards night, pretty much full with a much higher suit jacket to suit trousers ratio. The after party saw us whisked to the upmarket 5th Street club, h'orderves were of the 'can't pronounce what it is' variety.
It was funny to be involved in the two events and see that there is still a lot of weight, glamour and prestige in the 'old' media. It's a poor mans film industry i suppose.
I still preferred the cheeseburgers though.